About Jojomo Cabinetry
Hello, I'm John Moulton and I have been designing, building and installing fine cabinetry and furniture in Northern New Mexico since 1983. Over the years, I've transitioned from custom cabinetry into design/install of reputable quality cabinets from Ultracraft manufactured in Liberty, North Carolina.  We can provide that custom look without the custom price tag by utilizing our woodshop to modify cabinetry as needed.
Unlike the "Big Box" model, I manage each cabinet project from start to finish and work with my own small team of installers to see that it all gets done right.  You can see our craftsmanship at homes & businesses in Santa Fe, Los Alamos, Abiquiu, Taos and all points between. I have been personally involved in hundreds of kitchens and bathrooms along with a full portfolio of custom furniture. The kitchen learning curve never seems to end and the challenges keep me passionate about my work.  See "How We Work" for more details.
Creative design and thorough project management
At one time, cabinets were merely boxes with shelves, doors and a drawer. Available in just a few styles.  As with all facets of construction, your choices for cabinetry and counter tops are now seemingly endless. I can guide you through the maze of options and create a cabinet to fit your needs with a careful eye on your budget. Drawings will be produced using the most advanced CAD software allowing you to see your project come to life before your eyes.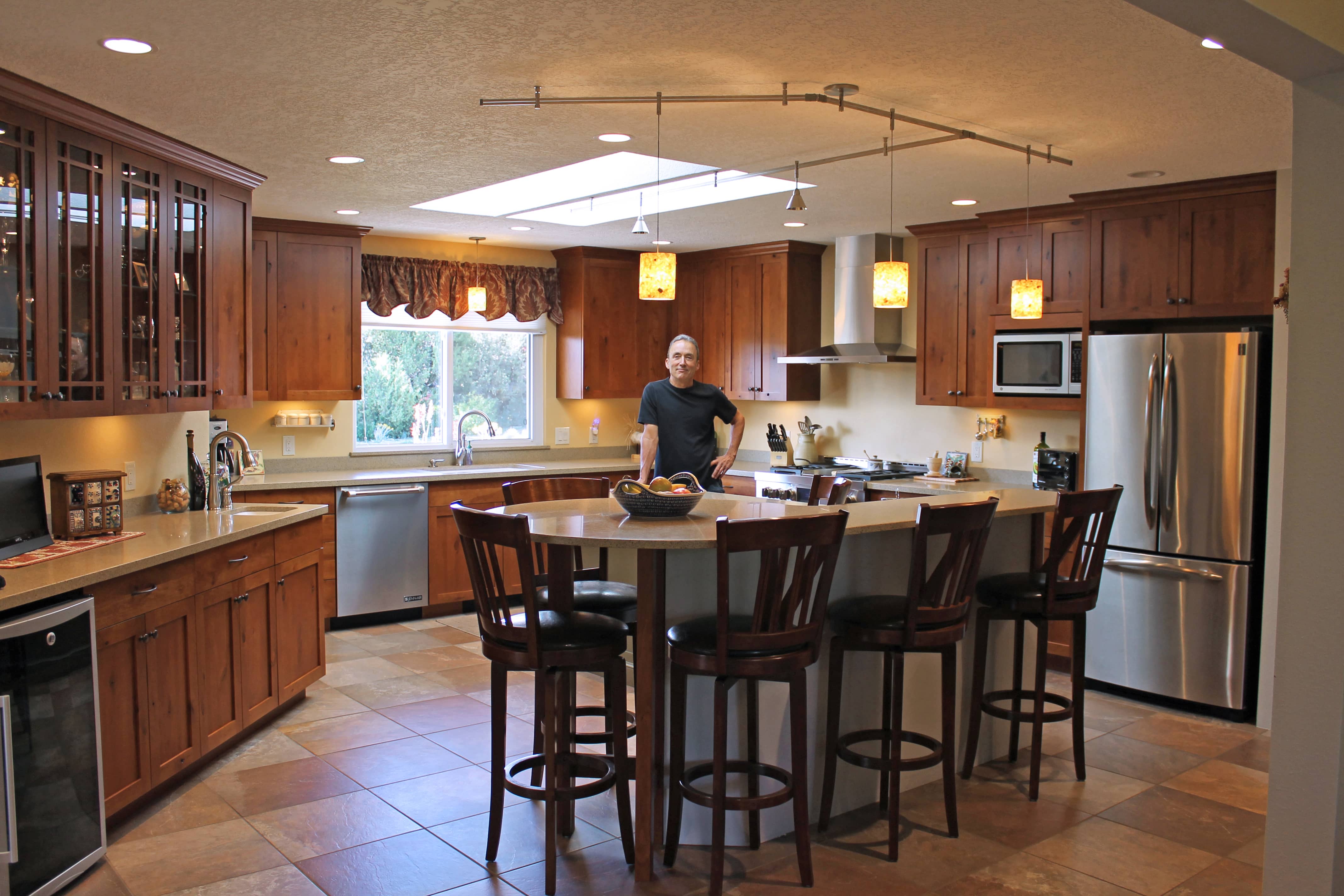 Custom Cabinetry from Ultracraft
Full Access cabinetry from Ultracraft .
Our woodshop allows us to add the custom touch as needed.
Quartz ~ Granite ~ Soapstone ~ Glass Tops
 How the process works:  You choose the color(s) and a fabricator purchases the product and stores it at their yard.  We attempt to get your base cabinetry and other components that will affect the tops installed first and if you have us manage the process (see below), we will schedule our fabricator in quickly to get templates made.  They then take the templates back to their shop and cut the counters to match the templates.  While this is in progress, we continue the rest of the cabinet installation.  This often shortens the kitchen installation process by a few weeks.
We do not fabricate these items. Stone and wood just don't get along well in the same shop. I have an excellent fabricator that I like to work with or you can provide your own. My fabricator usually offers the best prices & craftsmanship available. We have samples of hundreds of colors/types in our showroom.
I include countertop floorplans in my kitchen design process and will see that your appliances/fixtures will integrate properly
We can coordinate your installation of both cabinetry and countertops in a timely manner.  I have extensive knowledge of counter tops and for an additional fee, can provide oversite of the tops from product choice, scheduling, templating and installation.  This fee is usually about 5-10% of your counter top cost.
Professional and Careful Installation services
"In House" installations result in the highest quality
We do our best to work with the other trades involved in homebuilding with clear communication and planning.
 Your installation fee includes site visits to see that Electrical/Plumbing and other facets of the trades are what the plans call for.
Attention to the details includes a great installation
Personalized service gives the client the confidence to know that they will be working with a team of professionals.